Hoya Roundtables
Hoya Roundtables are gatherings of Georgetown students and administrative leaders for discussions on areas of student interest. In addition to engaging on the specified topic of each forum, students may bring questions for administrators on any issue. These events provide a forum for idea-sharing and the opportunity for members of the Georgetown community to engage in transparent dialogue on topics related to the University's strategic direction and performance.
In-person Hoya Roundtables happen throughout the year, but the conversation continues online with Georgetown Ideas (new window) at roundtables.georgetown.edu. Share your ideas and vote or comment on ideas shared by others.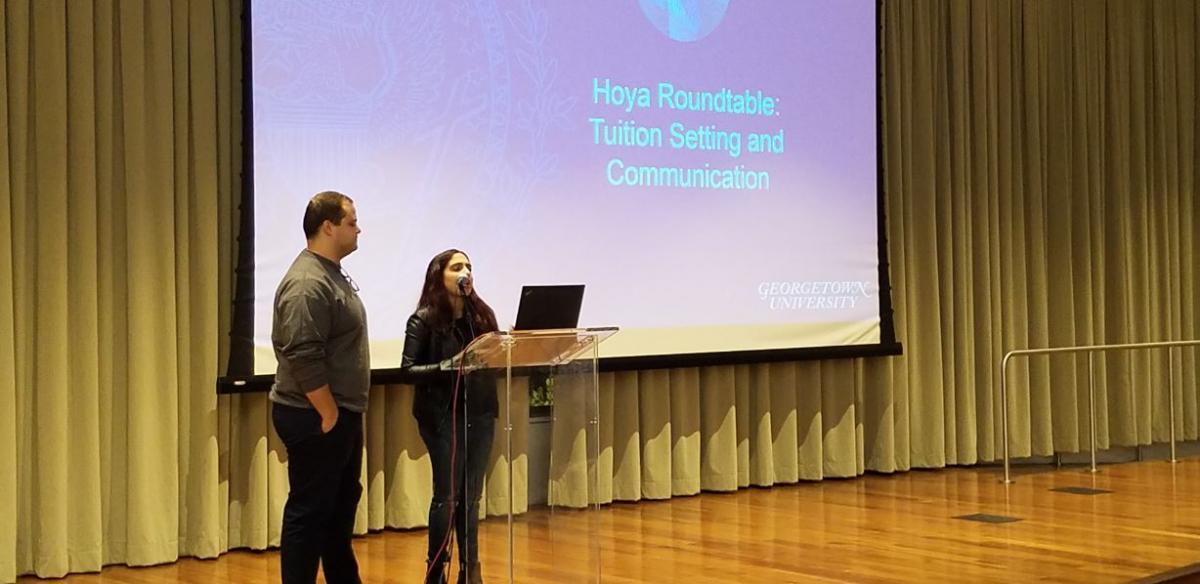 Upcoming Hoya Roundtables
There are no scheduled Roundtables at this time. Be sure to check back in early 2018 for our first event of the new year.
---
November 2017 Hoya Roundtable Recap on Tuition
Below is a recap of the Hoya Roundtable on Tuition from Thursday, November 9, 2017:
Summary of Key Points
University budgeting
Primary Costs: Salaries, Financial Aid, Renovations/enhancements
Primary Revenues: Tuition, Interest from endowment, grants and contracts
The role of Georgetown's endowment: Each year the university takes out a small percentage of interest from our endowment to supplement revenues. As our endowment grows, the percentage of operating revenues filled by tuition is able to decrease
How are Tuition Rates are set
Fall: determine university priorities, receive stakeholder input from various departments, assess costs associated
Early Spring Semester: Provost Office consolidates data and proposes budget
Mid-Spring: Tuition Rate voted on by the Board of Directors and student communication occurs
Recent Major University Improvements
Arrupe Hall, Jesuit Residence, Alumni Square
Leo's and Leavey center
Thompson Center, Multisport (Cooper) field, Improvements to Shaw Field, Kehoe field (feasibility study for resurfacing)
Black box theater in Village C
Bus turnaround and fixes to GUTS service
Opening new art gallery in Walsh Building
Student Health Center
Muslim Prayer room
Casa Latina
Sexual Assault and Mental Health Support
Forums for student input
The Provost Office's Student Advisory Committee with representation from each of the undergraduate academic councils, GUSA, and graduate students
The Fall Hoya Roundtable on Tuition Rate Setting
Making an appointment with the Provost's Office to view the university's slideshow on tuition rate setting
Discussion Period:
Rise in tuition: How is tuition decided and what is the tuition projection for the next four years?
The Board of Directors sets the tuition in February for the following year
There is a projected rise in tuition each year for long term budgeting purposes and the University reviews this assumption annually as part of its process in developing those long term plans.
Rise in expenses: In the past ten years there has been a 100% increase in expenses, is this normal?
This is a low increase in expenses relative to our peer institutions
Some of that growth is due to inflation and some of that growth is due to program expansion, growth in graduate enrollments and new facilities. Georgetown compares itself to peer institutions that are much wealthier with larger endowments, and thus competes with those institutions for the best students and faculty
Much of the growth has been an increase in the growth in our programmatic opportunities and investing in academic programs like curricular offerings and the size of our faculty
New buildings are funded primarily by debt and individual donations
Transparency and Engagement: How can the University be more transparent with its tuition setting process and meaningfully engage students?
The Student Advisory Committee for the Provost will be used regularly each year for input on the cost of tuition
The Provost will host a roundtable to discuss tuition and spending each year or as students feel this is valuable
An FAQ regarding tuition will be established on the website for reference
Students may also engage through the Committee on Socially Responsible Investing which holds regular meetings involving students, faculty, and members of our investment group
Student Services: If tuition costs keep rising, where will students see a direct impact on student life at Georgetown?
Future resources will go into improving residence halls including Henle, Village B, Darnell, as well as academic building and required infrastructure updates
Students do and will continue to see an increase in student services – health, safety and welfare-related
Some recent past resources went to food options, especially late night food options other than Epicurean, in response to student requests
Student voices in suggesting priorities continue to be a very valuable resource, as we continue to balance the needs of all our community members
Related Sites