Christina Roberts
Contact Christina: +1 202-687-6335
chirstina.roberts@georgetown.edu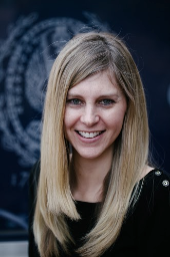 Christina Roberts is the Associate Vice President for Operations. Christina works to facilitate and create the financial and operational environment that supports academic excellence by managing initiatives, guiding communications strategy, identifying opportunities for operational improvements and leading collaborative efforts to achieve these improvements.
Before joining the Office of the Chief Operating Officer, Christina served as Chief of Staff at Georgetown University's School of Continuing Studies from October 2010 through August 2014. In that role she worked as part of a collaborative leadership team to chart strategy for SCS's academic program expansion, contributing to a period of tremendous growth and innovation for SCS. Prior to arriving at SCS, from 2006 to 2010, Christina worked in New York City and throughout Africa as Director of Program Operations for Malaria No More, a non-profit organization focused on ending malaria in sub-Saharan Africa. She was responsible for shepherding the implementation of the organization's commodity and health education investments. She has communications experience at the national level, in roles at the White House, the Department of Homeland Security and on both of George W. Bush's presidential campaigns.
Christina holds a BBA in marketing from Texas A&M University and an MBA from Georgetown University.